Textile Developments
Explore in depth the inspirations and techniques that are used to create some of the textures and textiles seen in the SIGILO body of work
Grapa Fabric
Inspired by the the textural work of French painter, sculptor, and engraver Pierre Soulages, the staple fabric came from attempting to recreate the dimensional effect of Soulages' piece "Peintures."
The outcome resulted in a moldable metal fabric with brutalist qualities. Minimal and simple in design, the repetitive pattern of the staples creates a striking visual effect. The heaviness of the pieces echo the past, becoming a contemporary take on armor.
The staples have been paired with Handmade paper fabric, worn linen, and boiled wool.
Piedra Fabric
Yardage of silk chiffon is crunched by hand to create a textural effect that echoes the surface of beaten rocks.
Visually striking, the piedra fabric can be fused with heavier fabrics for more body, or left as is for a sheer and lighter weight. Concious about sustainablitily, no waste is ever produced from this technique as any extra fabric can simply be crunched into the new yardage,
Papel
With an awareness and a concern with how much fabric waste was being produced, looking for an alternative "fabric" became a priority. With a leather-like appearance, blackened handmade paper is reinforced and substituted in many pieces acting as the fabric. Surprisingly durable after embellishments and treatments, pieces made out of the paper fabric last just as long as any other piece with the appropriate care.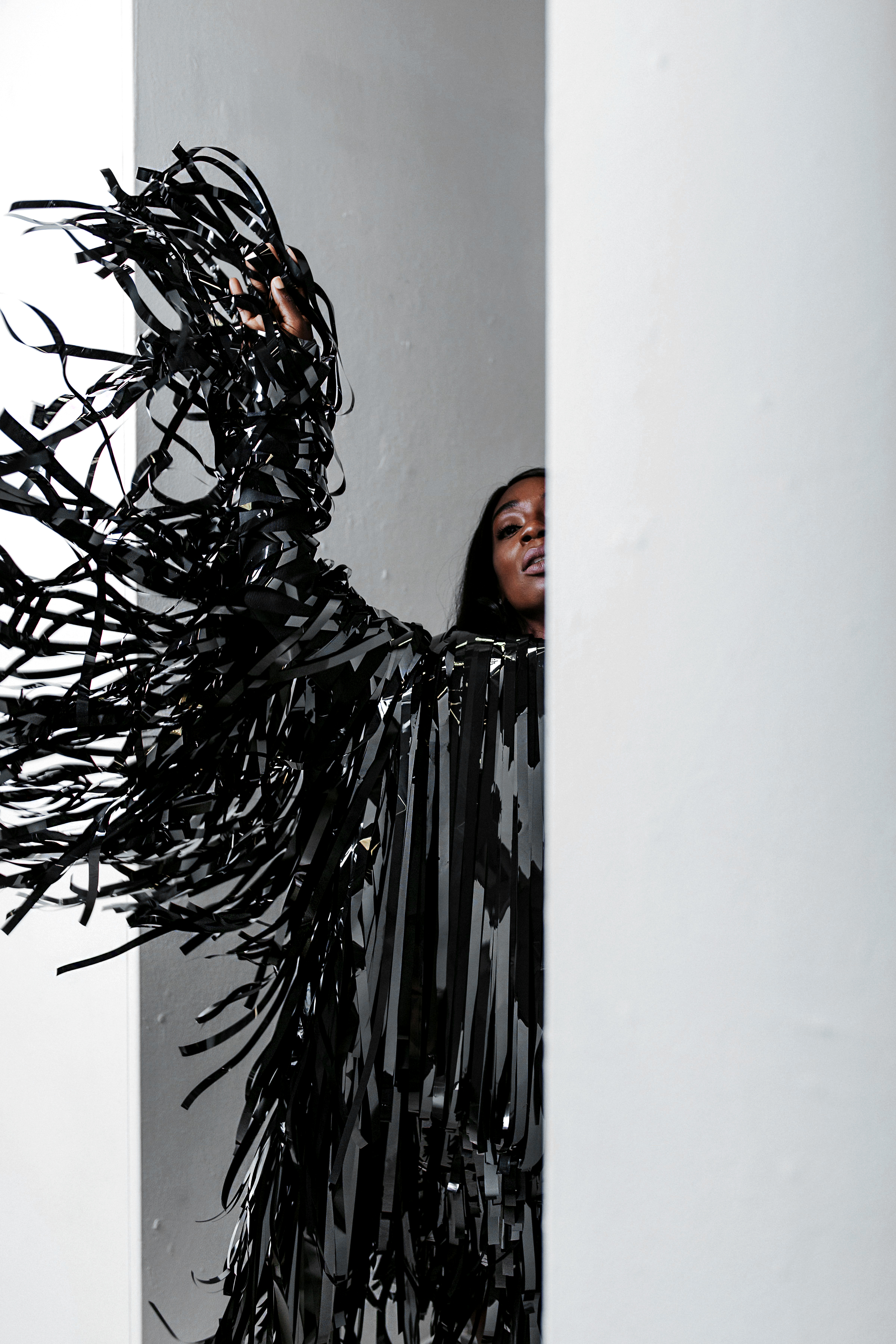 Materiality
A continual study in learning to see materials not for what they are, but for what they could be.
Shown are pieces created from binder beams, VHS film, human hair, the reverse side of staples, and lasercut reflective film
Modularity
An exploration to various new forms the garments can take outside of the conventional expectations.